How to Address Student Engagement by Maximizing Your Rewards Program
Gameday technology is our thing. It's the core of our business. As a leading fan experience creator for collegiate athletics, it is our duty to provide on-trend information that serves our partners and customers. And so, we are pleased to give you our Gameday Insider Series where we take our readers behind the scenes with some of the prominent architects of the gameday experience.
Athletics administrators know that marketing to college students is no easy task. Driving attendance to on campus sporting events is perhaps even more challenging. In our second installment of #GamedayInsider, Jon Wepking, Assistant Athletic Director for Marketing and Production at Minnesota State University Moorhead, gives us his keys to success in using loyalty and rewards to accomplish both of these elusive goals.
Create one app that does everything.
A few years ago, we had two apps: one information app and one loyalty and rewards app. After surveying our students, some had one or the other but not both…meaning the recipients for our messaging were cut in half. By bringing our rewards program into our athletics app, we can now successfully message all of our fans on one platform. Since making that change, our engagement numbers have doubled.
Aim to solve the challenges of the modern student.
Students want to know what's going on around campus. They want a personalized experience for their needs. They are broke and love free food, and they want to feel the full college experience. Your app should address these needs directly. Guide them to must-attend events, notify them about the things they care about, and get them involved in memorable moments that will define their college experience. Finally, create marketing collateral that revolves this theme -- your app as a solution to their problems.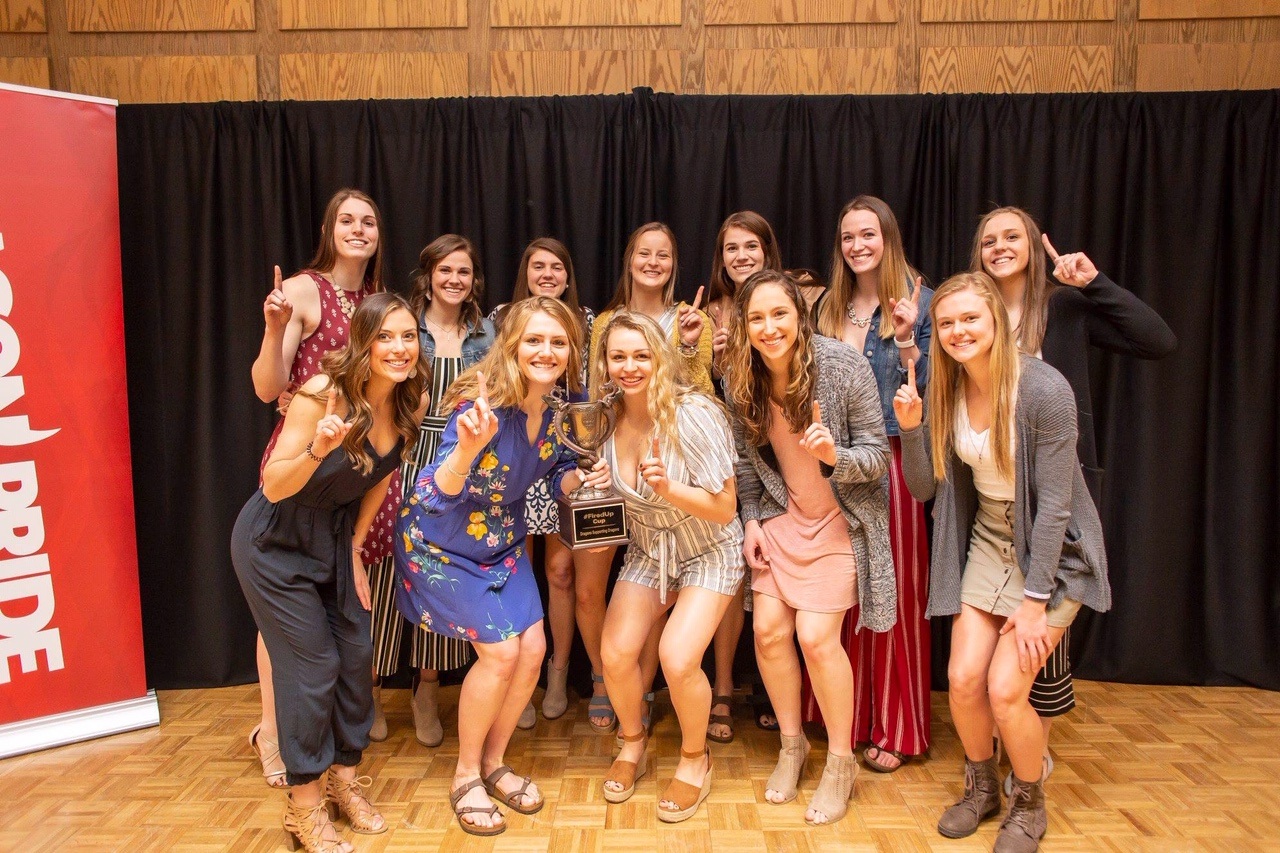 "We have a program called the #FiredUp Cup, where we use our rewards program to incentivize athletes to attend other sporting events on campus…Asking competitors to compete...pretty simple right?"
Understand what motivates a student's behavior.
Surveys from our students show us that they go to events because:
They have interest in the sport;

They know someone playing; OR

Their friends are going.
Social media has opened up a world of possibilities on point three. Some rewards programs are developing features like RSVPs to show students what events their friends are attending before they've made their weekend plans. We have a program called the #FiredUp Cup, where we use our rewards program to incentivize athletes to attend other sporting events on campus. The team that averages the most points per person on their roster (biggest loser style so teams of big and small rosters are equal) at the end of the year wins the traveling trophy handed out at the banquet. Asking competitors to compete...pretty simple right?
Hit welcome week...hard… for opt-ins.
When freshman come to campus for the first time in the fall, they are looking for ways to connect with their new school -- their new home. This is the prime opportunity to bring them into the loyalty and rewards program with push notifications ON. At the welcome week events, walk them through the entire process of downloading the app and earning prizes. Explain to them, in detail, how the app will help them, and be intentional about explaining how push notifications will add value and not annoy them. If they start with notifications off, you're fighting an uphill battle. Bonus tip: BE SURE TO OVER-STAFF so you can give as much 1-on-1 help as you can.
Give fans a prize for the first action they take.
If students have to go through the whole download and sign up process...they'll expect a benefit up front. Providing them a way to earn a prize immediately gives them a taste of victory. It can be as simple as giving them a $1 coupon for a sub at an off campus eatery or a pair of sweet sunglasses. This provides value immediately, and word of mouth can spark organic growth from here. Their friends will see the glasses that they can only get through the app, ask where they can get the coupon, and you're off.
Use check-ins to pick contestants for in-game promotions.
Train your students to check-in by including a media timeout or quarter break into an app sponsorship. Pick your contestants from those check-ins. This will add more value than just points, and give the sponsor some extra love. Use partnerships with SportsBingo or other mobile games or augmented reality features on YOUR APP ONLY to increase activity, which will improve awareness of events, familiarity with your brand and products.
Get creative with points to influence behaviors and to show love to lesser-attended sporting events.
There are so many ways to encourage check-ins. Double or triple points nights are easy promotions. Flash sales where we decrease the points needed to redeem a prize for a short period of time also work well. Give points for viewing parties, pep-rallies, and off-campus events. Then of course we all get asked by coaches and athletes how we're pushing fans to their sport that doesn't get a lot of love. Make those events worth a LOT more points. 100 points for football, 500 for cross country. That visual example of how you're driving people to support all of your department will go a long way in proving the apps value to your coaches.
Diversify your prizes and their values.
We typically have three tiers of prizing. Lower point items might be a school branded penant, ice pack, pair of sunglasses, or a mousepad...things no one would buy, but have value. At the middle tier, we might give away a Dragon's tote bag or a cool logo shower curtain...fun and unique branded items. At the top tier, students could win a Roku stick, a drone or even a Dragons branded computer. Our partners and sponsors are always open to sprinkling in prizes and gift cards, so tap into that resource as well. Bonus: No one wants swag with sponsor logos on them. They want their school's logo, and so you've got to invest some coin here.
Leverage experiences that are free to you.
Experiential marketing is really the key to reaching sports fans -- on campus and off -- and the beauty of being in athletics is that there are so many things we can put together for free and offer as prizes in our app. Things like courtside seats, lunch with the head coach, a tour of the facility -- these have no monetary value to us, but they are worth something to our fans. We use our rewards program to market these unique opportunities and drive engagement...oh yeah and the price is $FREE.99.

"Don't… I repeat…Don't do prize redemptions out of your office."
Don't…I repeat…Don't do prize redemptions out of your office.
I can't stress this enough. I learned this the hard way. Bring prizes to games. Create locations for prize pickups on campus once a week. Believe me, you don't want students coming to your office to pick up prizes. Being in a visible place on-campus also creates a buzz around the rewards program, so let the students see other students winning prizes. Give them an opportunity to play a game or enter a drawing for prizes. Don't keep this great program hidden. Celebrate it, and stay sane by creating an important boundary.
Partner with a rewards provider that wants to grow and develop with you.
When you are putting together a mobile experience that includes scores, stats, schedules, venue information and also rewards programming...you need to have a smart, flexible partner in your developer. As a marketer trying to innovate, sometimes things don't always play out as smoothly as you'd like. By working with a third party that lets us get creative, we can pivot quickly and build new things on the fly. We have seen a lot of success so far, and we will continue to evolve our offerings as we grow.

Jon Wepking @jonwebbie is the Assistant Athletic Director for Marketing and Production at the Minnesota State University Moorhead.
Follow along with us @FromNowOnExp #gamedayinsider to gather insights and best practices directly from the experts in Q&A style interviews, thought leadership articles and more, just like this one.